Overview
A bone spur (osteophyte) is a bony growth that forms along the edge of normal bone in response to wear and tear, most frequently in the joints. A heel spur is a bone spur of the heel bone, which causes heel pain by rubbing on the achilles tendon or other soft tissues.
Causes
A heel spur usually develops as a result of wear and tear over time, which leads to the degeneration of connective tissue called fascia. Standing for prolonged periods and wearing shoes that do not provide the right type of arch support can also lead to connective tissue damage in the heel. The body attempts to repair the damaged tissue by delivering calcium to the affected region, but sometimes too much calcium begins to accumulate and this results in painful plantar fasciitis.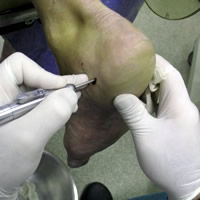 Symptoms
Most people think that a bone "spur" is sharp and produces pain by pressing on tissue, when in fact, these bony growths are usually smooth and flat. Although they rarely cause pain on their own, bone spurs in the feet can lead to callus formation as tissue builds up to provide added cushion over the area of stress. Over time, wear and tear on joints may cause these spurs to compress neighboring ligaments, tendons or nerves, thus injuring tissue and causing swelling, pain and tearing.
Diagnosis
Heel spurs and plantar fasciitis are diagnosed based on the history of pain and tenderness localized to these areas. They are specifically identified when there is point tenderness at the bottom of the heel, which makes it difficult to walk barefoot on tile or wood floors. X-ray examination of the foot is used to identify the bony prominence (spur) of the heel bone (calcaneus).
Non Surgical Treatment
Heel pain may be associated with a heel spur, however the heel pain is usually due to plantar fasciitis, rather than a heel spur, so treatment is usually directed at the plantar fasciitis itself. Treatment usually involves application of ice to reduce pain and inflammation, special stretching exercises, and pain-relieving or anti-inflammatory medicines. Night splints or orthotics may be recommended. It may help to avoid the activities that aggravate pain, such as long walks and running. Surgery is very rarely recommended and only after other measures fail.
Surgical Treatment
Most studies indicate that 95% of those afflicted with heel spurs are able to relieve their heel pain with nonsurgical treatments. If you are one of the few people whose symptoms don?t improve with other treatments, your doctor may recommend plantar fascia release surgery. Plantar fascia release involves cutting part of the plantar fascia ligament in order to release the tension and relieve the inflammation of the ligament. Sometimes the bone spur is also removed, if there is a large spur (remember that the bone spur is rarely a cause of pain. Overall, the success rate of surgical release is 70 to 90 percent in patients with heel spurs. One should always be sure to understand all the risks associated with any surgery they are considering.
Prevention
To prevent this condition, wearing properly fitted shoes with good arch support is very important. If a person is overweight, weight loss can help diminish stress on the feet and help prevent foot problems. For those who exercise frequently and intensely, proper stretching is always necessary, especially when there is an increase in activities or a change in running technique. It is not recommended to attempt to work through the pain, as this can change a mild case of heel spurs and plantar fascitis into a long-lasting and painful episode of the condition.