Overview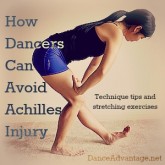 Achilles Tendonitis is a term that commonly refers to an inflammation of the Achilles tendon or its covering. It is an overuse injury that is common especially to joggers and jumpers, due to the repetitive action and so may occur in other activities that requires the same repetitive action. Most experts now use the term Achilles tendinopathy to include both inflammation and micro-tears. But many doctors may still use the term tendonitis out of habit.
Causes
Achilles tendonitis occurs in sports such as running, jumping, dancing and tennis. Other risk factors include participation in a new sporting activity or increasing the intensity of participation. Poor running technique, excessive pronation of the foot and poorly fitting footwear may contribute. In cyclists, the problem may be a low saddle, which causes extra dorsiflexion of the ankle when pedalling. Quinolone antibiotics (eg, ciprofloxacin, ofloxacin) can cause inflammation of tendons and predispose them to rupture.
Symptoms
The pain associated with Achilles tendinitis typically begins as a mild ache in the back of the leg or above the heel after running or other sports activity. Episodes of more severe pain may occur after prolonged running, stair climbing or sprinting. You might also experience tenderness or stiffness, especially in the morning, which usually improves with mild activity. If you experience persistent pain around the Achilles tendon, call your doctor. Seek immediate medical attention if the pain or disability is severe. You may have a torn (ruptured) Achilles tendon.
Diagnosis
Physicians usually pinch your Achilles tendon with their fingers to test for swelling and pain. If the tendon itself is inflamed, your physician may be able to feel warmth and swelling around the tissue, or, in chronic cases, lumps of scar tissue. You will probably be asked to walk around the exam room so your physician can examine your stride. To check for complete rupture of the tendon, your physician may perform the Thompson test. Your physician squeezes your calf; if your Achilles is not torn, the foot will point downward. If your Achilles is torn, the foot will remain in the same position. Should your physician require a closer look, these imaging tests may be performed. X-rays taken from different angles may be used to rule out other problems, such as ankle fractures. MRI (magnetic resonance imaging) uses magnetic waves to create pictures of your ankle that let physicians more clearly look at the tendons surrounding your ankle joint.
Nonsurgical Treatment
The first thing to do is to cut back your training. If you are working out twice a day, change to once a day and take one or two days off per week. If you are working out every day cut back to every other day and decrease your mileage. Training modification is essential to treatment of this potentially long lasting problem. You should also cut back on hill work and speed work. Post running ice may also help. Be sure to avoid excessive stretching. The first phase of healing should be accompanied by relative rest, which doesn't necessarily mean stopping running, but as I am emphasizing, a cut back in training. If this does not help quickly, consider the use of a 1/4 inch heel lift can also help. Do not start worrying if you will become dependent on this, concentrate on getting rid of the pain. Don't walk barefoot around your house, avoid excessively flat shoes, such as "sneakers", tennis shoes, cross trainers, etc. In office treatment would initially consist of the use of the physical therapy modalities of electrical stimulation, (HVGS, high voltage galvanic stimulation), and ultrasound. Your sports medicine physician should also carefully check your shoes. A heel lift can also be used and control of excessive pronation by taping can also be incorporated into a program of achilles tendonitis rehabilitation therapy. Orthotics with a small heel lift are often helpful.
Surgical Treatment
Surgery is considered the last resort. It is only recommended if all other treatment options have failed after at least six months. In this situation, badly damaged portions of the tendon may be removed. If the tendon has ruptured, surgery is necessary to re-attach the tendon. Rehabilitation, including stretching and strength exercises, is started soon after the surgery. In most cases, normal activities can be resumed after about 10 weeks. Return to competitive sport for some people may be delayed for about three to six months.
Prevention
You can take measures to reduce your risk of developing Achilles Tendinitis. This includes, Increasing your activity level gradually, choosing your shoes carefully, daily stretching and doing exercises to strengthen your calf muscles. As well, applying a small amount ZAX?s Original Heelspur Cream onto your Achilles tendon before and after exercise.